Sensex slips 88 pts on failing macro data
Sensex slips 88 pts on failing macro data
Wiki Editor
Aug 17 2016 12:00AM
Business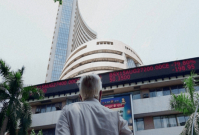 Sensex declined 88 points to close at 28,064.61, while Nifty fell 29.60 points or 0.34% to close at 8,642.55.
Market benchmark Sensex declined 88 points to close at 28,064.61 on Tuesday as investors cut down their bets after industrial output growth slowed down to 2.1% in June and inflation hits two-year high. Lower international advices following a sharp rally in the yen and disappointing Japanese second-quarter GDP figures also hit investor sentiment.

An official data on Friday showed industrial output grew by 2.1% in June, although down from 4.2% a year ago, on account of poor show by manufacturing and heavy contraction in capital goods. Besides, retail inflation shot up to nearly two-year high of 6.07 % in July, well above RBI's comfortable level, on surge in prices of food items as demand for sugar, oil & fats and spices rose ahead of the festival season. WPI inflation hit a 23-month high of 3.55 % in July on Tuesday.
Markets have begun to refocus on macros, and the first of those have disappointed. Both the CPI and WPI have diminished chances of a rate cut in October," said Anand James Chief Market Strategist, Geojit BNP Paribas Financial Services. The BSE Sensex resumed higher at 28,190.04 and hovered in a range of 28,199.10 to 27,942.65 before closing at 28,064.61, showing a fall of 87.79 points or 0.31 %. The gauge had gained 377.52 in the previous two sessions.
\r\n\r\n
The 50-issue Nifty fell 29.60 points or 0.34% to close at 8,642.55. Intra-day, it hovered between 8,682.35 and 8,600.45. Shares of Unitech slumped 16.91% after the real estate firm expressed inability before the Supreme Court to refund money to the home buyers over its two delayed projects in Noida and Gurgaon.
\r\n\r\n
Stock of Infosys slipped 1.16% to Rs 1,050.95 after the tech major announced it will ramp-down about 3,000 jobs, following Royal Bank of Scotland's decision to cancel a project to set up a separate bank in the UK. Overseas, Asian stocks ended lower as the price of crude oil took a breather from a three-day rally. Japanese stocks fell by 1.62% as the yen strengthened against the dollar.
\r\n