Multiple looks of Sushant Singh Rajput for MS Dhoni
Multiple looks of Sushant Singh Rajput for MS Dhoni
Wiki Editor
8/17/2016 12:00:00 AM
Entertainment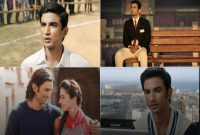 Sushant Singh sports multiple looks for M S Dhoni The Untold Story!

Sushant Singh Rajput has given his blood and sweat to the MS Dhoni biopic and has left no stoned unturned to make sure he gets into the skin of his character. The recently launched gripping trailer speaks volumes of his hard work starting to pay off !

For the movie, Sushant is seen sporting multiple looks which depict various stages of Dhoni's life. And also different ages in his life. The actor surely rocks all the looks be it the properly groomed hairstyle or the messed up spikes. From donning long hair to the side swept look, Sushant certainly fits the bill.
In fact, Dhoni's father and his coach also agreed how Sushant certainly is the ideal choice to play the Indian skipper. Sushant has certainly undertaken extensive research, seen multiple videos and spoken to everybody associated with Dhoni to make sure he picks up the small nuances well .
The recently released trailer has already garnered a whopping 10 millions views in less than 24 hours, breaking all records and has now become one of the most liked trailers of 2016.
Helmed by ace director Neeraj Pandey, produced by Arun Pandey and Fox Star studios, the film which is one of the most anticipated films of the year is all set to release on September 30th, 2016.