5 immigrant celebrities who could have been deported from US
5 immigrant celebrities who could have been deported from US
Wiki Editor
Jul 5 2018 5:00AM
Entertainment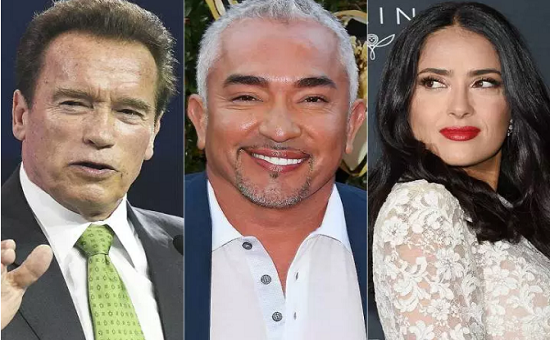 On Monday, world-famous canine expert Cesar Millan appeared on Jada Pinkett Smith's Facebook chat session Red Table Talk, and he got candid about his journey to the United States.
At a mere 21 years old and with only $100 in his pocket, Millan said he illegally crossed the United States border into California from Mexico and started his first jobs: cleaning dog kennels and walking dogs.Eventually, Smith — his longtime friend — helped him along by telling him he'd need to learn English if he was ever going to be on TV, and he did. Now he's an international star because of his TV show The Dog Whisperer, which ran for nine seasons."[I'm aware I] broke a boundary and a rule," said Millan to Smith. "[But] it was for a dream."In 2009, 18 years after illegally entering America, Millan officially became a U.S. citizen.
The jovial dog lover isn't the only celebrity who violated the law coming into the U.S.; there are multiple examples of now-famous people who made their way into the country via illegal methods, or who broke immigration law while not yet citizens.
Salma Hayek
Oscar-nominated actor Hayek outright admitted to being in the U.S. illegally for a brief period of time (she didn't reveal when this happened). In an interview with a Spanish magazine, the Mexican actor revealed that her visa expired unknowingly.
"I was an illegal immigrant in the United States," she said. "It was for a small period of time, but I still did it."
After more than 20 years of living in the country, she became an American citizen in 2013.
Michael J. Fox
Surely the good-natured Canadian didn't hop the border illegally, did he? In reality, Fox's border troubles were minor, but factually he was illegal when he first entered the U.S. in 1979, at the start of his career — his working visa had not gone through yet, so technically, he shouldn't have been allowed to cross.
As he wrote in his 2010 autobiography, Lucky Man: A Memoir, he was exceedingly nervous as he approached the border, but made it through without a hitch. He currently holds a dual Canadian-American citizenship, and lives in Manhattan, N.Y.
Arnold Schwarzenegger
The bodybuilder, movie star and former governor of California has had a fascinating life, and at the outset of starting out in America, Schwarzenegger violated the immigration rules.
After leaving his native Austria to come to the U.S. in the late 1960s, he was given a visa to be a bodybuilder only. To make more money on the side, Schwarzenegger took another job as a bricklayer. Had it been discovered that he was making income off of two jobs, it would have been enough to deport the future superstar.
He became a permanent U.S. resident in 1974, and became an American citizen in 1983.
Melania Trump
Trump, now the first lady of the country, came to the U.S. from Slovenia in the mid-'90s.
In New York City at the time, she lived in an apartment with a photographer and did 10 modelling jobs before getting a working visa. The Associated Press reports she earned upwards of $20,000 for those jobs. She did not have permission to earn any money in the country, and could very well have been deported for this activity.
Related Items You May Like