A man mixed acid in sex club lubricant in Sydney
A man mixed acid in sex club lubricant in Sydney
Wiki Editor
Aug 29 2016 12:00AM
World News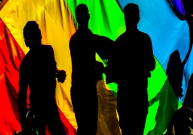 A 62-year-old man was arrested after allegedly filling a lubricant dispenser with hydrochloric acid at a sex club in Australia.

It is not yet known why a man poured hydrochloric acid into a vat of lubricant at a sex club in western Sydney.

No serious injuries were reported in the incident at "gay and bi social club" Aarows in northwest Sydney.

Items in the room had been fitted with anti-tampering alarms after they had been interfered with in the past.
The suspect was charged with offences including administering a poison with intent to injure or cause pain.
\r\n\r\n
A police spokesman told Australia's Daily Telegraph newspaper that detectives had not established a motive but there was "no indication of hate motivation to date".
\r\n\r\n
The suspect was granted conditional bail and is due to appear in court on 20 September.
\r\n\r\n
Aarows openly markets itself as "Sydney's premier health, recreation and social centre, where safe sex is permitted regardless of gender".
\r\n\r\n
One club-goer, who chose not to be identified, told the Australian Broadcasting Corp. it was a "sick" thing to do.
\r\n\r\n
"Hydrochloric acid is not the best sort of thing to be playing with," he said.
\r\n\r\n
When asked what may have motivated the suspect, the man said: "It could be anything really. People are perverted."
\r\n\r\n
Sydney
\r\n