Still good souls exist in our society
Still good souls exist in our society
Monalisa Pradhan
Jun 13 2016 12:00AM
Social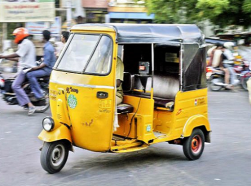 Generally we don't pay attention to a small emprise because we are running with race in life , I am writing about an incident , it was happened with me, It can be a minor thing but it touched my heart and whispered that still good souls exist.
Once I was running late for office and I was missed my company's cab too. So I was waiting for a private taxi or auto. Instantly I got an auto. After getting down I gave a note of 100 rupees because I didn't have change. General fare from my place to office is 20 rupees.
Unfortunately, driver was also without enough change, so he was unable to return me back 80 rupees. At outer premises of my office we did not have any shop that we could have asked there for change. We did not have any option now. I asked to driver it is okay, how much you have you can return.
\r\n\r\n
But driver politely denied and said, He has only 40 rupees if I return this to you then you are losing 40 rupees. If he does not accept the fare then is losing 20 rupees. Its better he will not accept fare. After listening this I requested him so many times to keep this 100 rupees note. Again he said when next time you will hire my auto that time you can give it. With this sentence he left.
\r\n\r\n
I know it's a minor thing in our subcontinent (India) because we have several big issues like religious, castes, beef blah blah blah..
\r\n\r\n
Here I take an opportunity to say that still beliefs and good souls do exist in our country. No matter if few bloody politicians trying to misguide us, but we are educated and well aware people. We won't go with them. One person can be rich with a rich heart not with huge bucks and property.
\r\n