Telangana CM trying hard to change Indian politics
Telangana CM trying hard to change Indian politics
Wiki Editor
May 2 2018 6:34AM
Politics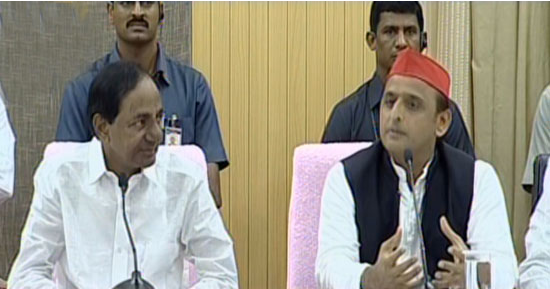 Telangana Chief Minister KCR who is seeking a qualitative change in national politics has been supported by Samajwadi Party. Former Uttar Pradesh Chief Minister Akhilesh Yadav who arrived in Hyderabad.
On Wednesday met Telangana Chief Minister KCR at Pragati Bhavan and discussed the alternate alliance. Then KCR and Akhilesh Yadav participated in a joint press conference.KCR said, \"The last few days are trying to make a transition and qualitative change in the country. Recently, I spoke to Akhilesh Yadav on the phone all the time that he met with various parties leaders. All the topics are discussed in detail. 70 years of independence came. No one in the country is happy. China next to us was better off in all areas. Now China has grown in all sectors. It is not just the unification of parties for the 2019 elections. In politics, the change in rule is to come. This is not just a combination of parties .. The combination of progressive leaders. Samajwadi Party has good relations with Hyderabad. We believe that the bond will be stronger. All the things I have said are Akhilesh's full support, \"KCR said.
Akhilesh Yadav said, "KSR is headed by Telangana. With his good governance KCR was assured of the people. The economic growth in the country is not at that level. In Independent India, still water and drinking water problems continue. Farmers are not happy if they are not happy. The last governments could not fulfill people's hopes. There is no shortage of our energy capabilities .. Our youth are straining abroad. We are trying to unite regional parties. In the coming days, the BJP is in power for the regional parties. BJP has given many assurances ... nothing has been fulfilled. Elections are still there. How will their guarantees be fulfilled? Buzza said that the big change will come from the cancellation of banknotes .. Is it true? The BJP lost in the recent by-election in UP. The change in the country has come to life.