Student protests against fee hikes at BITS
Student protests against fee hikes at BITS
Wiki Editor
May 7 2018 7:29PM
Education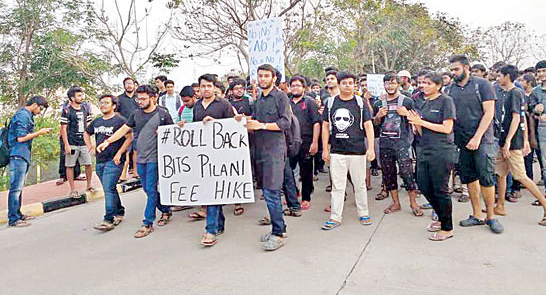 Today is the main representative of the City Bureau: Birla Institute of Technology and Science (BITS) students protesting against the hike in fees is taking place across the country. Students are struggling to cope with fee hikes.
More than 5,000 students in three campuses across the country continued on Mondays the second day. Students from Pilani, Hyderabad and Goa camps in Rajasthan are continuing without a break in protest starting Sunday. In 2002, the fee for two semisers was Rs. 32 thousand. 2018 to be paid Rs.3.18 lakh.
Mess Fees and Others Fees are extra. Students of all classes are studying in bits. For many, the fee hike has been overweight. 35.56 per cent in 2007 and 25 per cent in 2010 and 2011 academic years. That year, it has grown by ten percent. The students ignored it. 207 in 2017 The rate of increase of 16.91 per cent in this academic year has been worsened. As semester examinations are currently underway, students are getting laptops on the radius and studying there. Vice-Chancellor S. Bhattacharya said in a statement in Pilani that the decision will be taken on Friday and the students will be told. Until then, the students were asked to leave anxiety.
";