Ktr responded to Jetley on Cash Issue
Ktr responded to Jetley on Cash Issue
Wiki Editor
Apr 17 2018 6:03AM
Current Reports Online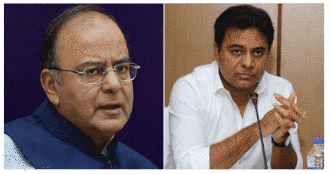 Union Finance Minister Arun Jaitley's announcement that cash settlement in several states across the country is only temporary, Telangana IT minister Ketiar responded.
This is not a temporary issue and the situation in Hyderabad has been the last three months. Asked deeply about this.
'Sir .. Banks or ATMs are not suddenly done or temporarily. There have been frequent complaints on cash issue over the last three months in Hyderabad. Please discuss deeply about RBI and Finance Officers. Do not lose people's confidence in the banking system, "Katie tweeted.
Earlier on the issue of the currency, Jaitley said: "We have reviewed the currency situation in the country. There is more than enough cash in the whole. Cash is available in banks too. However, in some areas unusual, suddenly the use of cash has resulted in a currency problem. This is only temporary. We will fix it soon, "he tweeted.