Indian RPF rescues 26 trafficked children
Indian RPF rescues 26 trafficked children
Wiki Editorial
Feb 5 2017 12:00AM
Current Reports Online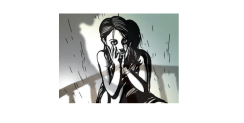 Railway Protection Force of the Northern Railways rescued 26 children who were trafficked from Bihar and were forced to work at factories in east Delhi's Seelampur area.
The racket unfolded on Wednesday after six children were found trying to flee from Delhi at Anand Vihar railway station.
The children between ages 10 and 12 disclosed that they were kidnapped from Motihari six months back and since then had been working in the factory. They also told the RPF team that there were several others trapped at the factory.
\r\n
\r\nA special team along with labour officers, Delhi Police and NGO workers, based on the details given by the children, raided the two factories and rescued 20 more children between the ages of 10 and 14 years.
\r\n\r\n
"They were found with injuries on their head and feet. They were kept captive in two rooms. We found no one at the site however, an investigation is underway to find out more about the factories," said an RPF official.
\r\n
\r\nBoth factories have been sealed and a medical examinations of the children have been conducted before handing over to the Children Welfare Committee, the official said.
\r\n