One year old dead body found fresh in a spiritual grave
One year old dead body found fresh in a spiritual grave
Wiki Editor
8/29/2016 12:00:00 AM
Blog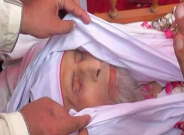 Allama Huzoor Mashood Raza Khan Hashmati's body found fresh in his grave. He was dead before one year.

Huzoor Allama Hashmatiwas a spiritual person.

Hazrat informed and said to his followers in dream "relocate his body because water is entered into grave". Followers took him out to relocate and found completely fresh body.

Waves of people came to sight this miracle.
It is a miracle for sunni sector of muslim, but it would be a huge headache for Wahabi sector and Dr Zakir Naik

Related Items You May Like