Hyderabad Metro will transform life in the City of Nizams
Hyderabad Metro will transform life in the City of Nizams
Wiki Editor
Mar 31 2018 10:12AM
Blog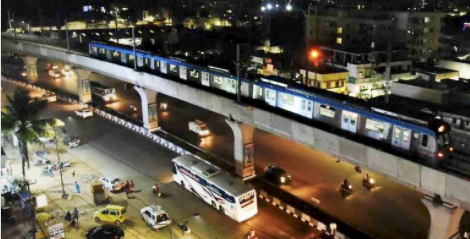 It would have been a much more photogenic launch had Ivanka Trump joined Narendra Modi and K Chandrasekhar Rao in flagging off the much-awaited metro rail in Hyderabad, but this was an inaugural ride for the history books anyway.
The metro promises to dramatically transform life in the City of Nizams.It has a mascot called Niz, whose back story encapsulates the kind of transformation that is being anticipated. According to the concessionaire L&T Metro Rail (Hyderabad) Ltd, Niz is from a family that can trace its lineage to the Nizams, he did engineering from IIT-Delhi and then studied urban planning at Columbia University before returning to work in his hometown, he is as proud of his heritage as of how Hyderabad became an IT hub attracting the Microsofts and Googles of the world, as fond of burritos as biryani.
In a nutshell this is the big dream for the biggest Indian cities, that somehow they will retain their rich traditions and cultures even as they take dramatic strides in futuristic technologies. The metro rail is particularly well positioned to feed this dream, because it says cities can grow their students and workers, housing and jobs, without a corresponding increase in traffic jams, noise pollution and smoggy emissions.
Fifteen years on Delhiites may not remember how their first encounters with the metro felt. The shining wagons and swanky stations, smart-looking and well-spoken service personnel, it offered a much more 'modern' experience than we were getting even at our airports at that point. The icing on the cake were the smiles with which commuters would often greet each other – such a contrast to the gloomy faces at the bus stops. Or the glaring ones ensconced in various vehicles plowing into each other on our overcrowded roads or parking lots.
Sadly many of Delhi's metro stations have become decrepit now. And the mayhem on the roads feels worse rather than better. Instead of the addition of various other components of an improved public transport grid, like more buses, the capital has seen humongously increased supply of taxis, auto rickshaws and rickety e-rickshaws.
There are lessons for Hyderabad here. Today Niz is sidelined, denied the publicity blitz it expected upon the unveiling of 2014. Politics, litigation and red tape may also derail much of what the Hyderabad metro promises today.
But for now the City of Nizams has ahead of it the great pleasure of 24 glorious new metro stations, stretched along the 30 km route from Nagole to Miyapur, servicing some of the busiest clusters and landmarks. Of especial note is the Ameerpet interchange station billed as India's largest at over two lakh square feet, with a 6,000 passengers capacity at any point in time. A woman driver was at the wheel for the inaugural ride and hopefully the metro will really drive women (and men) to a better life in Hyderabad.
Related Items You May Like